Fearless Dawn Kickstarter Project
Fighting-mad bad girl Fearless Dawn is back and better than ever in Jurassic Jungle Boogie Nights, a dinosaurrific adventure tale written and drawn by fan favorite Steve Mannion.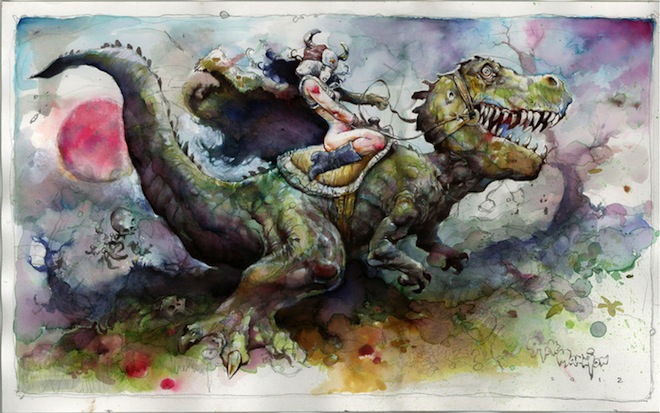 Steve's unique art and storytelling style has been rocking the underground comic book industry for years. His talents have bled into the mainstream as well on such titles as Batman: Black and White, Detective Comics, Captain America SOL, and Fear Agent, just to name a few.
For those not familiar with his popular Fearless Dawn books, the Premise is it's World War Two and the Nazis are threatening world domination. A new hero rises to fight the Axis. It's a New Dawn... FEARLESS DAWN! With her trusty Retro-Rocket and Sidekick Betty, there's plenty of action afoot. Enter the evil Helga Von Krause, Fearless Dawn's arch nemesis and the sparks really begin to fly!
In Jurassic Jungle Boogie Nights, Helga's cooking up a plot to invade with an army of genetically-modified dinosaur warriors that threaten to smash everything in the free world unless she is stopped! Can Fearless Dawn save the Day?
Drawn in an appealing retro style and loaded with fun, Fearless Dawn will surely entertain anyone who enjoys a great action adventure. Imagine Indiana Jones crossed with Mad Magazine and you'll get a pretty good idea of what we're talking about here.
Steve Mannion has been fortunate enough where he can regularly sell his art on Ebay and other sources, and afford to produce these underground treasures from time to time. However, with the rise of crowdfunding as a viable method of funding comic book production, Steve figured... "What the heck. Let's give it a try."
So, he setup a Kickstarter campaign for his latest Fearless Dawn book. Click here to learn more about Jurassic Jungle Boogie Nights. Rewards for those who invest in the project will include original art, Steve Mannion 2012 sketchbooks, Fearless Dawn signed packs, original sketches and more.
We'd really like to see this exciting project get funded! So let's put on our retro-rockets and BLAST FORTH, comrades!